There comes a time when we have to leave the path that we are comfortable with and move on to learn new things. Broaden our horizon. I also like the following quote:
If you do what you've always done, you'll get what you've always gotten.
Tony Robbins
So, moving on to broaden my horizon I need to try some different stitches and slowly add some pieces that a harder for me. Otherwise it is like jogging on the treadmill. You are not going anywhere. Browsing Ravelry I found a bracelet with the member Cult of Crochet. The pattern can also be found on her blog Cult of Crochet for non members.
I started in black with a less fluffy yarn, but I just could not see it again. I got the recommendation to place a white cloth behind to see the black stitches, but I just picked a lighter colour to practice the broomstick stitch.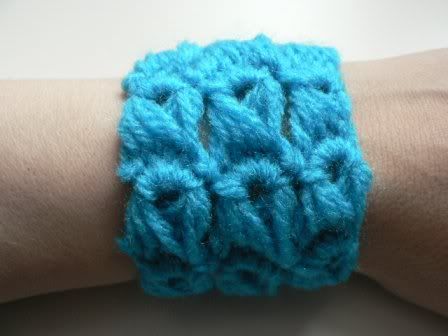 I struggled at first and still don't get it right with crocheting the first row, but I got there in the end.
The following video for Broomstick Lace was extremely helpful.